There is two commonly used styrofoam, one is EPE and the other is EPS. As bulky expanding foams, they are soft, lightweight, and versatile. However, recycling them is a huge challenge. Shuliy EPS / EPE Foam Granulating Line can reduce the volume of EPS / EPE waste plastic foam by heat compaction, crushing, and re-granulation. The produced EPS particles can be made into plastic products such as clothes hangers, flower pots, furniture, building materials, or insulation. We provide a complete EPS / EPE foam recycling solution, you can choose the production line or single machine you want here.
Know Working Process of EPS&EPE foam granulating line
Introduction of the 7 composition machines
Here we will introduce the composition machines in the EPS / EPE foam granulation line and their features. At the same time, you can also learn about the specific granulation process of EPS&EPE foam.
1. Conveyor: Convey Waste EPS / EPE Foam to Foam Hot Melting Machine
2. Foam Hot Melting Machine
The foam melting machine can melt waste foam into blocks, reducing the volume and facilitating transportation. It has the characteristics of large output, high efficiency, low dust, low noise, low energy consumption, and convenient operation. Moreover, this melter can control the temperature throughout the process, which can avoid the phenomenon of foam burning or non-melting.

Features

Semi-closed hopper with moderate height to support manual feeding
The hopper can be opened manually for easy cleaning of the crusher tank
Safe operation, safety switch on hopper

Features

Suitable for medium to large scale foam recycling projects
Automatic operation, easy to operate;
Crushing and hot melting can be carried out directly after feeding
Environmentally friendly, no foam flying
3. EPS / EPE foam compactor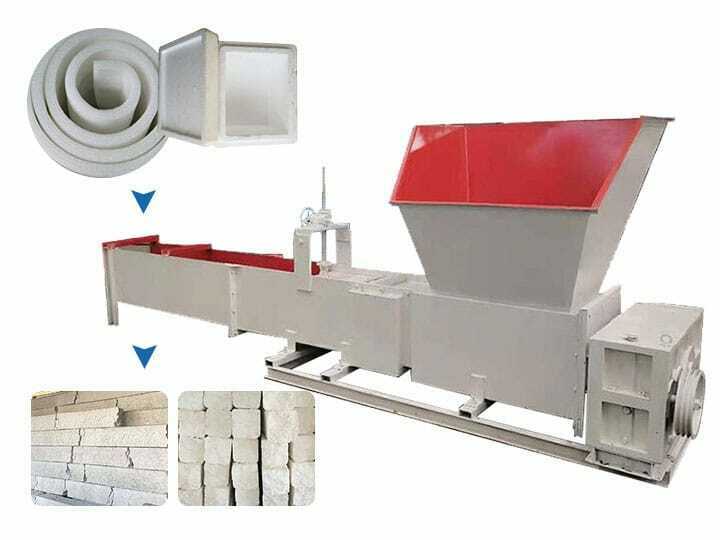 When recycling EPS and EPE, the air in the foam needs to be removed. The foam compactor can crush the foam first and then extrude it according to the rotation of the screw. It can effectively double the volume of the foam, increase the density, and facilitate the transportation and recycling of waste foam.
The waste foam processed by the foam compactor has the following characteristics:
Cold press compression ratio: 40:1.
High density after compaction, easy to transport.
Easy to cut off after compaction for easy stacking and storage.
4. EPS / EPE Foam pelletizer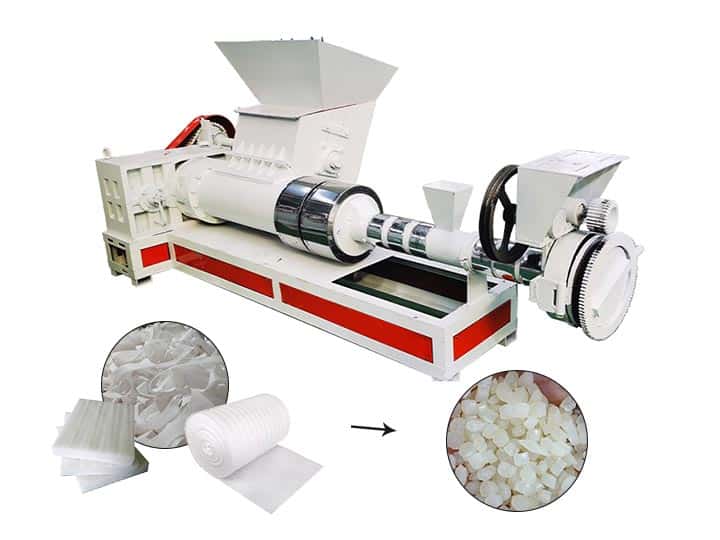 Foam pelletizers can heat and melt plastic foam. The molten foam is pulled through a die in the machine. The foam granulator is composed of a power distribution cabinet, an air inlet, a protective cover, an exhaust port, a die head, etc. It adopts a conical screw barrel, which has fast feeding speed and high output.
Features:
The machine is equipped with double reducer, which has long service life and stable operation.
Simple operation, a variety of capacities to choose from, providing tailor-made services
Low noise, no pollution
5. Cooling Tank: Cool extruded flexible plastic foam strips
6. Pellet Cutting Machine
The whole machine has good sealing performance, less leakage and convenient adjustment of cutting distance
The hob is made of carbide with high wear resistance
The whole machine is designed without gears, which can effectively reduce the noise of the machine
The Independent electric box is convenient, safe, and beautiful
7. Storage Bin: storing the final produced EPS or EPE foam pellets